COSMAGIQ - Anti Wrinkle and Puffiness Cream
Voor 23:30 besteld, morgen in huis.

Klanten geven ons een 8,7

Veilig voor of achteraf betalen.

Niet tevreden? Geld terug garantie,
Reduce wrinkles and avoid puffiness
Following years of research, COSMAGIQ has developed an anti-wrinkle and anti-puffiness cream, rich in a number of sublimely effective ingredients. As of today, anyone can reduce, and even prevent, wrinkles and puffiness. This cream not only nurtures, but also hydrates. This anti-wrinkle cream protects your skin from harmful UV rays.


The R stands for Retinol and not from Wrinkles.
Retinol (vitamin A) is one of the most researched ingredients. Research shows that Retinol is effective against wrinkles, pigmentation spots and pimples. And the extent to which puffiness is less visible, can be immediately observed. Due to its airy, almost liquid texture, this cream is suitable for all skin types.
RESEARCH HAS SHOWN THAT RETINOL:
1. Reduces wrinkles with 68%,
2. Gives the skin 93% more elasticity,
3. Is suitable for all skin types and is quickly absorbed,
4. Protects against harmful UV rays,
5. Makes you look younger, which will make you feel better.
Do you want to look younger and more radiant?
Make-up will make you look better. But what can be better than doing this in a natural way? With the COSMAGIQ cream it is possible to enhance your natural look. After years of research the secret that fights or delays the ageing of your skin is finally revealed. This special cream with a luxurious look helps you to maintain a healthy and youthful skin. It is a powerful antioxidant that fights damage done by free radicals on the skin and delays or prevents the emergence of fine lines and wrinkles. The collagen produces a protein that, together with Retinol (vitamin A), rejuvenates the skin and makes it look sleek.
When should you use this cream?
 - If you want fewer wrinkles and less puffiness
- If you want to prevent wrinkles and puffiness
- If you want a natural look
- If you want to take care of your entire face with only 1 cream
- If you want an effective cream that gives your skin a very luxurious and cared for look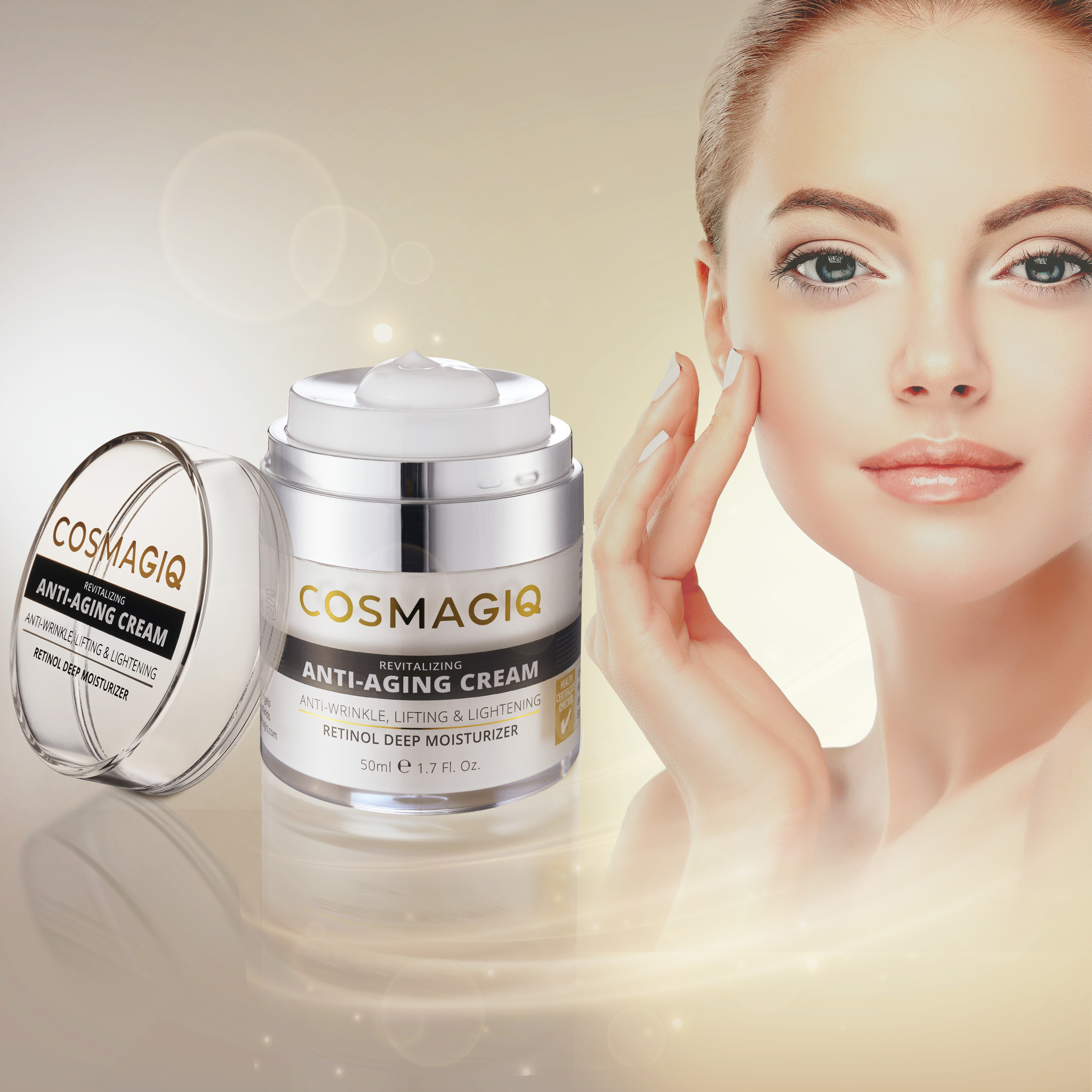 Real people, real results:
Maaike: "I am glad that I finally found something that really works. I literally tried for hundreds of Euros in creams, tubes and remedies. Nothing worked and if it did anything, the cream was just too greasy. This composition is absorbed quickly and leaves no film. I am very satisfied."
Claire: "I placed my order at 23.20h and received it the next day. I have used it for 2 weeks now and it works very well. I have a sensitive skin, which means I have less choice in creams. Perfect composition! My wrinkles, and certainly my puffiness, are really reduced. What a nice jar. It is showing off in my bathroom! The Cosmagiq product does what it promises."
Renate: "My friend told me about this new cream. I don't have many wrinkles, but have terribly puffy eyes! Well, they are almost gone and in this way I will be happy to keep wrinkles at bay as well. I used to use Estée Lauder, but this cream is much nicer. It moisturises really well! Every woman must give this a try!"


Do you also have a tired look, dark circles around your eyes, puffy eyes and/or wrinkles?That can now be a thing of the past! Forget that expensive Botox treatment and those unnecessary creams. We want every man and woman to have a healthy and natural look without those nasty wrinkles and puffy eyes. This unique cream does not contain alcohol or perfume. For best results, gently massage into your face every morning and evening.


Order your luxury COSMAGIQ Cream today before 23.30h for only €29.95 and give your face the attention it deserves from tomorrow!


Beauty Deal: buy 2 and save 20 Euro
Bewertungen
average of 4 review(s)
Durch
:
Carlyn
Datum
:
29/11/2019
Very happy with the fast delivery!
Easy dosing cap, that way the cream stays well sealed, am very curious how you get to "the last bit " ;) The smell is a little "strange", but it's nice..
The cream feels nice, now wait and see if it does what it promised ...
Durch
:
Mandy
Datum
:
29/11/2019
I bought this cream together with your Serum in a promotion! I am really very pleased about the quality. I give you 5 stars
Durch
:
Marieke Lauws
Datum
:
27/11/2019
I received it quickly. Thanks
Durch
:
Hilda
Datum
:
27/11/2019
Best cream I have ever used, keeps the skin soft and nourished throughout the day.
Copyright © 2022 - COSMAGIQ - All rights reserved